What can you say about Healthy Adventures? You could say that we're the premier vegetarian-oriented social and dinner club in the southeastern United States. Is that too bold a statement?

Truth is, there are several other outstanding vegetarian clubs and organizations in the Southeast and if you want to say that we're the best, we won't argue with you too much. In any event, check us out--if we're not the premier vegetarian-oriented club, you'll probably agree that we're one of the most fun.

Our group is based in Atlanta, Georgia, and has more than 50 members. About twice a week we meet for dinners, hikes, coffee and dessert or sporting activities. We also sponsor short trips and throw various parties.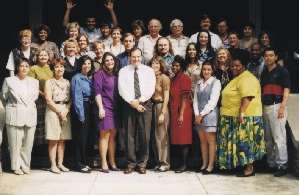 Actually, this isn't a picture of our group, but this group looks friendly, and we're friendly, so use your imagination. Besides, we didn't have a group photo.
Even though most of our members are single, we don't claim to be strictly a singles group. Couples, both married and unmarried, are always welcome.
Our members range in age from their 20s-50s, with most in their 30s and 40s. We do have some exceptions: In 1998 we celebrated the 83rd birthday of one of our members at Raging Burrito!
Specifically what types of events do we have? Our events are listed in a newsletter which is published four times a year by an all-volunteer staff. You can check out a sample page from one of our newsletters in the activities section of our Web site.
Quarterly planning meetings are held to discuss organizational business and to sign people up for event hosting. Occasionally, we'll even celebrate someone's birthday at the planning meeting.
All our events are organized by volunteer hosts who plan our activities and field questions from interested parties. An RSVP is not required for our events except if requested in the newsletter listing. Just show up at the right time and place, pull up a chair and dig in.
We hope you'll spend some time at our Web site and, if you find yourself in the Atlanta area, please drop by and see us.
--The volunteers of Healthy Adventures